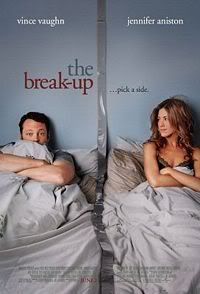 If you wanna see some comical drama about relationships, do watch the movie, The Break-up. It showcases how they can be broken by 3 lemons instead of 12 & how they can be built with just buying a hot dog with a topping of mustard sauce.
Watched this movie for the 3rd time over a year & still the experience is gratifying with laughters. All arguments, counter arguments & other conversations in it are fun to follow.
The movie opens with a base ball game, where Gary (played by Vince Vaughn) & his friend in the audience seat. Brooke (played by Jennifer Aniston) with her boyfriend is also in the scene. At the end of the match, this guy, Gary confronts Brooke & asks her out. But, she insists that she already has a boyfriend. What happens next is a story that is untold. :) Ho man! I guess, this is one of the boldest advances, I have ever seen, to win a date! I first saw this guy, Vince Vaughn, at Wedding Crashers. He is forthcoming & very spontaneous in dialogue delivery. You'll feel as if nothing is bookish, remembered & uttered in it. Jennifer Aniston is just as cute as in F.R.I.E.N.D.S. Her smirks & expressions of outrage are good to watch.
In case you have seen it already, do leave your comments.
Image Courtesy: Wikipedia