This is an episode (snipped for brevity) of a Test engineer (TE) validating a new Speech Recognition Software (SRS):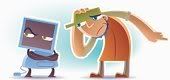 […]
TE: Menopause
SRS: Men no pass.
TE: :D
SRS: Ha! Ha! Ha!
(TE thinks a while, gets a complex test condition & utters …)
TE: Men no pass
SRS: Menopause.
TE: That was funny you dumb ass
SRS: You dumb ass.
(the grammar checker module finds a fault in the sentence & kicks in. the cursor turns into a sand clock & after a second, it prints…)
SRS: You are a dumb ass. (This text is auto corrected. Click here, if you think it is incorrect)
TE: You think you are smart
SRS: You think you are smart?
TE: ?@#?!!
SRS: Silence!
the testing goes on…
image courtesy: GettyImages.com