I always wanted a trash box near to my working table. We have one, but thats common for the whole house. Its big, dirty & smelly. I don't want it to be near me, any day. Where do I put those chaffs of the peanuts, I munch when I'm watching an afternoon movie? The skin of an orange? How about some crumpled paper tissues? Or some torn paper after some scribbles? All I wanted is a personalized trash box. Here is how I constructed:
Take a carton box, like the one of an energy drink. Here, I have taken a box that came along with the mouse, I bought.

Cut-off the top-portion like in the picture. You can use a hacksaw.

In the portion you cut-off, trim-out a rectangular portion as traced by the red rectangle. This rectangular strip is to be sticked to the bottom of the box, from the inside. This is to give some base weight for stability.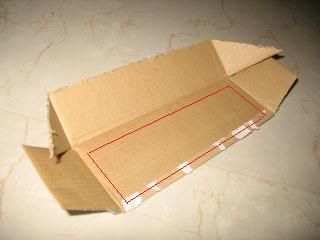 Cover-up those rough edges with paper cuttings. You may also want to cover-up any bold names/images to avoid distractions. The yellow dots, here, shows my cover-ups. :)

And thats the end of it. For me, its been worth the effort. Keep it by the side of your worktable table, at home. Take it with you, wherever you sit to grind some grub. And more importantly, empty it once in a while.
If you create a one of this kind, do share its picture.