After several days of procrastination, here we go with Tata's Nano. Was keeping tabs with the recent AutoExpo for 2 reasons, one was obviously for the people's car, Nano.
At 1st glimpse, the Nano reminded me of a smart car that Russell Crowe rides in A Good Year. Here is the shot: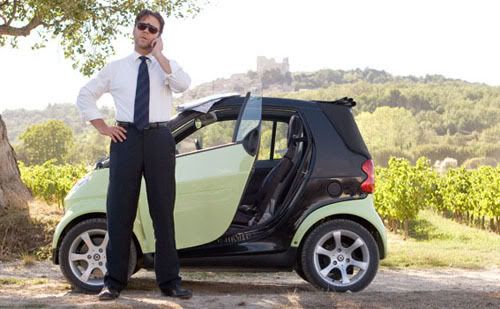 With this, he zips through France's country side to take a look at his vineyard.
When Ratan Tata unveiled the Nano, I felt he was submissive & made it sound very ordinary. There was no dramatization nor boastful talks like Steve Jobs did for iPod Nano. We should be really grateful for Ratan Tata for keeping the promise. Now more people can be on the move with 4 wheels. Long time dreams of several Indians would come true. Nice.
One significant impact that Nano would bring in is the safety of pedestrians. When we have more cars per stretch of road, there'll be new stricter road traffic rules to reduce congestion & commotion. A hefty capital punishment along with a few weeks of imprisonment would be levied for skipping a signal, for rash driving, for changing lanes in a haphazard way & so on. Our infrastructure cannot scale to the growth of vehicular traffic, so the birth of such rules is inevitable. But it wouldn't be very natural, there'll be several incidents & accidents that would pay way for such rules. This would bring in orderly behaviour of drivers & also the pedestrains would be using their footpaths as there'll be no space on the roads for them to walk. Vehicular traffic will in no way abuse pedestrians.
Other changes would be in related businesses, more & more Drive-in food outlets would open, converting Nanos into Hybrids, making it to run on alternate fuels such as ethanol or making it into a complete electric vehicle. As many people would gonna own a Nano, there'll be immense pressure for differentiation, businesses in stickering & adding extra accessories would flourish. Private car parking areas would be ubiquitous in cities. Fuel filling stations & motels would sprang throughout the country.
For Tata Motors, Nano is a case of Corporate Social Responsibility where a slew of objectives, direct as well as indirect, will be met. Kudos.