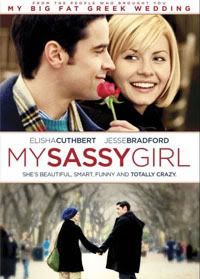 I happened to pull-in some pics of Elisha Cuthbert (I'll try to remember her name) not knowing who she is & not even previewing her pics. Its a kinda technology which provides only filenames & no thumbnails, with which I downloaded. That was a week before.
Stumbled across, My Sassy Girl yesterday & it was totally entertaining. Guess what? Elisha Cuthbert, is the lead actress. She appears as Jordan R+o+a+r+k; an unpredictive, seemingly arrogant, always drunk, bossy, delusional, yet hawt still beautiful girl. Charlie (Jesse Bradford) the character getting along with Jordan, introduces her like this:
> Once in your life, if you are very lucky; you'll meet the person who > divides it; into the time before you met her & the time after.
Thats how the course of events take a ruthless, un-imaginable yet interesting turns, after bumping upon her.
While watching the movie, felt the character of Jordan to be something new for Hollywood (ofcourse, telling this with my limited knowledge). Later learnt it to be a remake of a Korean film.
Elisha's role is very-much likeable. The background score is pleasant & devoid of any modern sounds. It is disheartening to hear that this movie didn't make it to the theatres. It is DVD only.
Get your eyes on it & leave your comments.
ps: Wikipedia entry of Elisha says that she was the contender for MJ's role in SpiderMan. Would hav been awesome, had she gotten the slot.