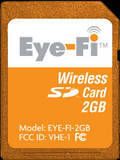 I'm truly excited on seeing Eye-Fi. Its a SD card with an in-built WiFi. Which means it can automatically upload pictures from your digial camera to your computer, as soon as you bring it into your home network. It can even push those pictures to your favorite photo-sharing/printing/blogging/social-networking site. May be even to a private backup site. No need of cables & no waits. Just a 5 minute long one-time-initial-system setup, is needed.
This is a wonderful extension, as this enables to WiFi any device you hold. Gone are the days where WiFi is just for networking your laptop.
I would like to see such a card for Phones which support expandable memory. This might be a little tricky, as in general, the slot sizes are for Micro SD cards. For older phones, how about adding WiFi into SIM cards? Will take a while for their WiFi circuits to scale down. May be, I can accept with some extension chords that can stick on to the casing of the device to WiFi it. Folks at ThinFone to ponder upon. :)
Photo Courtesy: Laughing Squid.